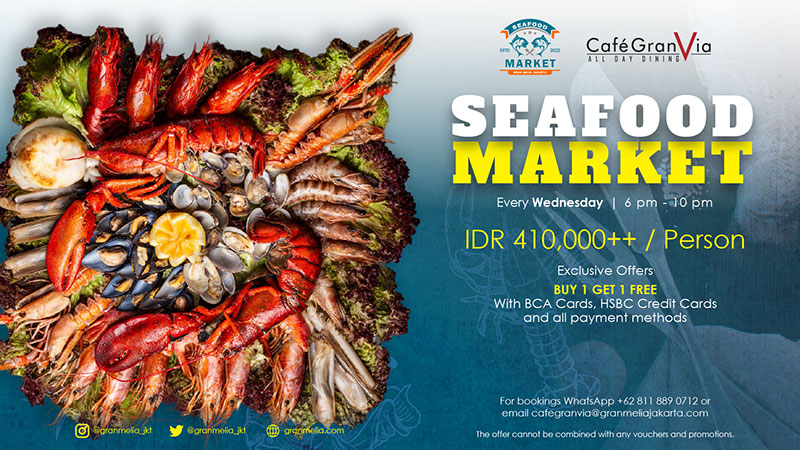 SEAFOOD MARKET | Every Wednesday, 6.00 pm – 10.00 pm
Seafood Market offers an extensive selection of finest seafood delicacies, fresh from the ocean, that will leave you feeling spoilt for choice.
Begin the gourmet journey at Seafood Market by diving into seafood corner, featuring a wide array of fresh produce, on grilled on-ice including Peruvian ceviche, marinated Spanish octopus, Manila clams, Shrimp Tajen and more. Special highlights include the popular Spanish and Mediterranean seafood dishes such as Lobster Thermidor, Mamitako (a tasty tuna fish stew that is flavored with peppers and potatoes), the national dish of Spain Paella de Marisco, Bacalo Al Pill Pill, Gambas Al Ajillo and more. Other Asian delicacies also include Seafood Laksa, Spicy Sichuan Crab, Dim Sum Station, Kingfish Tandoori, Chingri Malai Curry, as well as Indonesian's favourite Sate Lilit and more.
To finish off the delectable dinner by the sea, you can enjoy some sweet treats by relishing in a perfectly burnished Basque Cheesecake, Paris Brest, Rich Chocolate Tart and more.
IDR 410,000++ per person including non-alcoholic beverages
Buy 1 Get 1 Free*, with BCA Debit/ Credit Cards and HSBC Credit Cards
Valid until 30 November 2022